Aflas
®

Rubber O-Rings, Seals and Gaskets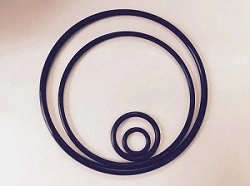 We manufacture and supply Aflas rubber O Rings, Aflas rubber Seals and Aflas Rubber Gaskets.
AFLAS® is a tradename for a unique fluoroelastomer ( TFE/P ).The elastomer, when properly formulated, can be used to manufacture O-rings, Seals and Gaskets and can exhibit outstanding performance.
Unique Properties of Aflas:
Excellent heat resistance with continuous service temperature capability of 230°C,
Chemical resistance including resistance to strong acids and bases,
Excellent oil resistance.
Custom shapes and sizes of seals in Aflas can be designed as per client's/application requirements, manufactured in our dedicated facility in India and are available worldwide. Click here to get in touch and find out how this material can be of help.

Aflas is a trademark of AGC Chemicals Co.